Shift Worker Pro is an automatically updating shift calendar app that displays your rotating shift work schedule. It's simple design is easy to setup and use. Schedules can easily be created within a couple of minutes. Once your rotation is added you will never need to do it again. Your schedule will be instantly displayed, every time launch Shift Worker Pro.
The calendar is continously scrolling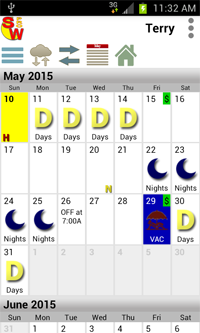 with a jump feature that allows you to quickly move to any date in the future.
Shift Worker Cloud service allows you to backup & restore your database, plus automatically share events and appointments between devices that have Shift Worker Pro installed.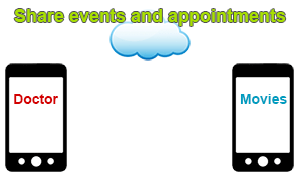 Shift Worker Pro can handle split and manually entered shifts too!
Active home screen widget, displays 1 week of your schedule. No need to open app to see what you are working for next 7 days. Add and view events from widget.


View up to 4 different person's schedules side by side, to find common "off-time" between them. This makes planning vacation with family and friends fast and hassle free.
Add up-coming appointments and events to the calendar with ease. An alarm can be set for each event, with 3 different notifications: audio, vibrate and blinking led (depending on phone). Alarms can be "snoozed", repeatedly up to the time of the event.
Easily add birthdays, anniversaries or any other recurring event with 1 press.
Clearly displays vacation, holidays and paydays.
There are no gimmicks or icons. All work hours are displayed in a consise, readable format.
Great for everyone including: police, firefighters, nurses, transportation, hotel, military personnel, public safety, utilities, manufacturing, construction, and spouses of shift workers.
Taul Apps is dedicated to providing you with a pleasant user experience. So, let us know if there are features that could improve this app, and we may include them in future updates.
Features:
* Show actual working hours, or enter your own custom text to display on calendar instead of working hours.
* Keep track of overtime.
* Keep track of sick time.
* Add shifts to schedule manually.
* Home screen widget displays you schedule for next 7 days.
* Continuous scrolling calendar
* Calendar works in portait and landscape modes.
* Color code your shifts.
* Create unlimited patterns to add to schedule manually.
* Shift rotation is only entered once.
* Ovveride automatically entered shifts. Great for trading or temporary schedule changes.
* Split shifts
* Email your schedule and events. Share with others.
* Quickly switch between schedules.
* Option to hide hours and use color code only.
* Displays common "off-time" between up to 4 different people.
* Keep track of up-coming appoointments and events.
* Add recurring events, such as birthdays or anniversaries with 1 press.
* Alarming w/snooze on appointments and events.
* Displays your paydays, vacation and holidays.
* Create your own holidays.
* 9 different date display formats.
* Display time in 12hr, 24hr or military format.
* Quick jump to any date.
* Simple to use.
* 2 view options, "Calendar" and "List".
* Unlimited schedules.
* No clutter. No Adds.
If you experience any problems with Shift Worker Pro, please email us directly at: support@taulapps.com, and we will be glad to help you.
Please don't leave unfavorable comments without allowing us a chance to fix any issues you have with Shift Worker Pro.